With Valentine's day right around the corner, what better "whey" to say I love you than cooking a beautiful breakfast for that special someone. This recipe is quick and easy to prepare and will be sure to put a smile on your valentine's face. Oh! and did we mention, these are a healthier alternative to the traditional pancake? If you decide to surprise your loved one with these yummy valentine wheycakes, post your masterpiece on Instagram or Facebook, tag @nutrition4perfomance, and use hashtag #ValentineWheyCakes. Let us know how they come out!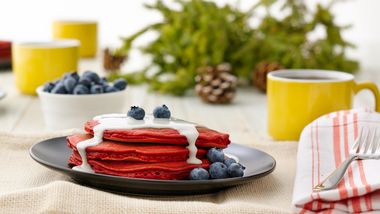 Ingredients
2 bananas (The riper the banana, the more banana flavor you will get)
3 eggs
2 tbsp of Peanut Butter
⅓ C of ground oats
2 scoops of whey protein powder
2 tbsp of Cinnamon
1-3 drops of red food coloring
Topping Options
Blueberries
Strawberries
Cinnamon
Powdered Sugar
Syrup (lite)
Walnuts
Directions
In a bowl mash bananas to a pureed consistency.

Mix eggs with the bananas.

Mix in peanut butter (HECK YES!!!! HEALTHY FATS) in the same bowl.

Next mix in remaining ingredients- oatmeal, protein powder, cinnamon, and food coloring. Be sure to mix until it is evenly spread throughout the mixture. The mixture should have a thick, batter consistency.

Heat pan on medium heat and apply nonstick spray to both pan and heart-shaped cutout.

Place heart-shaped cutout onto the pan or flat top and pour batter into the cutout.

Wait until you see bubbles on the top of the pancake, then using tongs to remove cutout, flip wheycake over and cook for another 1-2 minutes.

Repeat steps 6 and 7 until all the batter is used.

Top with blueberries, cinnamon, syrup, honey, walnuts, powdered sugar or whatever your HEART desires.

Enjoy this yummy breakfast with the one you love!